Why Do Kids Love Cocomelon So Much?
Why Do Kids Love Cocomelon So Much?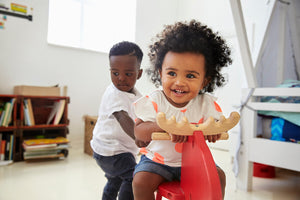 If you are a parent then Cocomelon toys are something that you have no doubt been looking into! This is arguably the biggest thing going in terms of entertainment for little kids these days and no matter if they are watching it on YouTube or on Netflix, kids cannot get enough of Cocomelon.
As a parent myself, I have spent more than my fair share of time watching Cocomelon (9/10 the same episodes over and over again) and being shown the latest Cocomelon toy unboxing on YouTube as well. Today we are looking at the phenomenon that is Cocomelon along with some of the fun products you can get for your kids.
What Is Cocomelon?
Before we get to the awesome Cocomelon toy/toys Australia has to offer, let's look at what this show is. Cocomelon is a show about people, animals, and just everyday life, things that kids can relate to.
It is the biggest thing going in kids' entertainment right now and the amount of Cocomelon toys for babies that are on the market now is just staggering. Think of it as a musical show with bright colours and you are on the right track!
Why Do Kids Love It So Much?
Whoever came up with the formula for Cocomelon really did strike gold and have probably made a gazillion dollars from all the Cocomelon toys that have been sold. There have been studies done to try and get to the bottom of why Cocomelon is so popular, but as a parent myself, I have my own theories for why this show is so popular.
To start with, I do not think the show could be any brighter, also the characters and animals all have big expressive eyes and faces which help capture a child's attention. Oh, and then we have the music…. Boy, do we have the music!!! It is catchy, repetitive and the kids will drive you nuts wanting to hear the same songs over and over again.
Fun Cocomelon Gift Ideas
There is no shortage of great Cocomelon toy and gift ideas out there, but here are a handful that my kids have enjoyed so I can personally recommend them.
Cocomelon Starter Puzzles:
First up we have one of the Cocomelon toy/toys Australia has to offer that you cannot go wrong with. These are basic jigsaw puzzles where preschools can put the large Cocomelon characters into their rightful place on the board. They are bright and colourful like the show and kids will get a kick out of the recognisable characters from the show.
What makes this one of the more fun Cocomelon toys out there is that it helps with their problem solving skills and fine motor skills too. There are three versions available there is Cocomelon Starter Puzzles: Friends which features the kids at the playpark. Cocomelon Starter Puzzles: Beach which has the kids having a fun day at the beach.
Last, but by no means least we have Cocomelon Starter Puzzles: Bedtime which has the kids in their PJs counting sheep and getting ready for bed, this one here is my son's favourite of the set. The large pieces make this one of the best Cocomelon toys for babies too!
Cocomelon Five Senses:
This Cocomelon Five Senses set is one of the best Cocomelon toys for kids as it helps them engage and learn about the five main senses. There is fun and bright dough that smells amazing and is great for getting their hands and mind active.
Fun squish balls that they can play with, a magnifying glass so they can explore the world around them, and more. This is a great gift idea as it gives them many fun experiments and adventure ideas that you and your child can partake in together. A set like this is going to help a child become more interested in the world around them.
Cocomelon Lace Art:
For children that have a creative side this Cocomelon Lace Art is the perfect Cocomelon toy for them. This is designed with smaller hands in mind so while this is a proper art project, younger children (it is suitable for kids as young as three) are going to be able to get to grips with this nice and easy. The idea is that they use the bright and colourful laces to make awesome Cocomelon art.
The art cards feature Baby JJ and the rest of the Cocomelon gang. While they will have some awesome Cocomelon pieces of art to put in their room… or the rest of the house if you are lucky! This set also helps engage their fine motor skills and helps give their creativity a push in the right direction too.
Cocomelon Paint Your Own Coin Bank:
Do Cocomelon toys get any cooler than this? What I think makes this Cocomelon Paint Your Own Coin Bank one of the most awesome Cocomelon toy/toys Australia has to offer is that  it is not only fun, but it has far more going on than you would at first think.
They get to bring to life the classic Cocomelon logo which they will get a real kick out of. It comes with a set of special pens for colouring it all in. They can either use the guide and follow the instructions to make it look like the real logo.
Or they can let their creativity fly and come up with their own new design! Plus, this is a money box and kids are never too young to learn the value of a dollar, also you can use this as a way to help teach them about counting too.